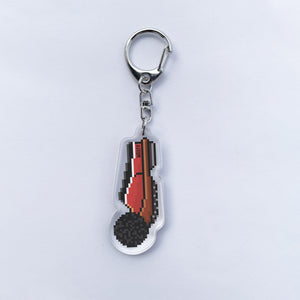 The Tsarouchi: A symbol of bravery and valor!!


Ένα ακρυλικό μπρελόκ παρουσιάζοντας το "Tsarouchi", σύμβολο της ελληνικής γενναιότητας και ελευθερίας!


Product info
Two-sided printed acrylic keychain

 




~6 cm total height 

Snap hook clip 

The keychain comes with an anti-scratch protective film on the acrylic surface that you can peel off after receiving it.

*Rounding to the nearest whole number
T-SHIRT MEASUREMENTS (cm*)
| | | | |
| --- | --- | --- | --- |
|  Size | Chest (A) | Length (B) | Sleeve Center Back (D2) |
| S | 49 | 70 | 39 |
| M | 52 | 72 | 43 |
| L | 55 | 74 | 46 |
| XL | 58 | 76 | 50 |
| 2XL | 61 | 78 | x |
| 3XL | 64 | 80 | x |
| 4XL | 71 | 88 | x |
| 5XL | 67 | 85 | x |

SWEATSHIRT MEASUREMENTS (*cm)
| | | | |
| --- | --- | --- | --- |
|  Size | Chest (A) | Length (B) | Sleeve Center Back (D2) |
| S | 50 | 69 | 85 |
| Μ | 55 | 72 | 87 |
| L | 60 | 74 | 77 |
| XL | 66 | 77 | 93 |

T-SHIRT KIDS MEASUREMENTS (*cm)
| | | | | |
| --- | --- | --- | --- | --- |
|  Size | Chest (A) | Length (B) | Age | Body height (cm) |
| XS | 36 | 44 | 5-6 | 110-116cm |
| S | 39 | 50 | 7-8 | 122-128cm |
| Μ | 42 | 54 | 9-10 | 134-140cm |
| L | 45 | 60 | 11-12 | 146-152cm |
| XL | 48 | 64 | 12-13 | 158-164cm |