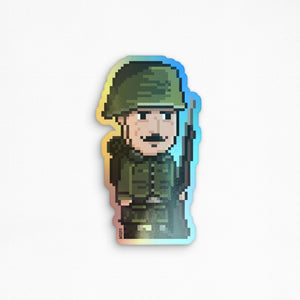 A pixel art tribute dedicated to all known & unknown soldiers and souls that sacrificed everything and got killed in world war 2.
We will never forget you and we will always be grateful.

Ένα αφιέρωμα σε όλους τους γνωστούς και άγνωστους στρατιώτες και ψυχές που θυσίασαν τα πάντα και σκοτώθηκαν στον 2ο παγκόσμιο πόλεμο.

Δεν θα ξεχάσουμε ποτέ και θα είμαστε πάντα ευγνώμονες.
Holographic vinyl sticker

6cm height 

PVC free

Outdoor quality




*Rounding to the nearest whole number
T-SHIRT MEASUREMENTS (cm*)
| | | | |
| --- | --- | --- | --- |
|  Size | Chest (A) | Length (B) | Sleeve Center Back (D2) |
| S | 49 | 70 | 39 |
| M | 52 | 72 | 43 |
| L | 55 | 74 | 46 |
| XL | 58 | 76 | 50 |
| 2XL | 61 | 78 | x |
| 3XL | 64 | 80 | x |
| 4XL | 71 | 88 | x |
| 5XL | 67 | 85 | x |

SWEATSHIRT MEASUREMENTS (*cm)
| | | | |
| --- | --- | --- | --- |
|  Size | Chest (A) | Length (B) | Sleeve Center Back (D2) |
| S | 50 | 69 | 85 |
| Μ | 55 | 72 | 87 |
| L | 60 | 74 | 77 |
| XL | 66 | 77 | 93 |

T-SHIRT KIDS MEASUREMENTS (*cm)
| | | | | |
| --- | --- | --- | --- | --- |
|  Size | Chest (A) | Length (B) | Age | Body height (cm) |
| XS | 36 | 44 | 5-6 | 110-116cm |
| S | 39 | 50 | 7-8 | 122-128cm |
| Μ | 42 | 54 | 9-10 | 134-140cm |
| L | 45 | 60 | 11-12 | 146-152cm |
| XL | 48 | 64 | 12-13 | 158-164cm |