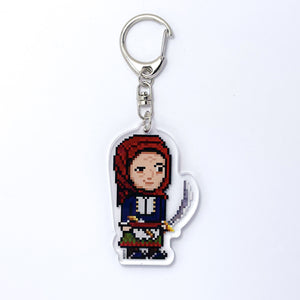 1821 - Pixel Art Edition
Laskarina Bouboulina Keychain
A pixel art acrylic keychain presenting the famous naval commander, the heroine of the Greek War of Independence of 1821, Laskarina Bouboulina (1771 - 1825).
Ένα ακρυλικό μπρελόκ παρουσιάζοντας την Ελληνίδα ηρωίδα και πιθανοτατα την ποιό σπουδαία γυναίκα που έλαβε μέρος στην επανάσταση του 1821, Λασκαρίνα "Μπουμπουλίνα" Πινότση (1771 - 1825).
A pixel-art tribute honoring the 200th anniversary of the Greek Revolution and their heroes of 1821.
Ένα αφιέρωμα προς τιμήν της 200ης επετείου της Ελληνικής Επανάστασης και των ηρώων του 1821.
Product info
Two-sided printed acrylic keychain

 




6 cm total height 

Snap hook clip 

The keychain comes with an anti-scratch protective film on the acrylic surface that you can peel off after receiving it.

*Rounding to the nearest whole number
T-SHIRT MEASUREMENTS (cm*)
| | | | |
| --- | --- | --- | --- |
|  Size | Chest (A) | Length (B) | Sleeve Center Back (D2) |
| S | 49 | 70 | 39 |
| M | 52 | 72 | 43 |
| L | 55 | 74 | 46 |
| XL | 58 | 76 | 50 |
| 2XL | 61 | 78 | x |
| 3XL | 64 | 80 | x |
| 4XL | 71 | 88 | x |
| 5XL | 67 | 85 | x |

SWEATSHIRT MEASUREMENTS (*cm)
| | | | |
| --- | --- | --- | --- |
|  Size | Chest (A) | Length (B) | Sleeve Center Back (D2) |
| S | 50 | 69 | 85 |
| Μ | 55 | 72 | 87 |
| L | 60 | 74 | 77 |
| XL | 66 | 77 | 93 |

T-SHIRT KIDS MEASUREMENTS (*cm)
| | | | | |
| --- | --- | --- | --- | --- |
|  Size | Chest (A) | Length (B) | Age | Body height (cm) |
| XS | 36 | 44 | 5-6 | 110-116cm |
| S | 39 | 50 | 7-8 | 122-128cm |
| Μ | 42 | 54 | 9-10 | 134-140cm |
| L | 45 | 60 | 11-12 | 146-152cm |
| XL | 48 | 64 | 12-13 | 158-164cm |